Important Reminders
First Day of Winter Classes – January 3rd
A Remote Democratic High School
Mission: Providing international high school students an online democratic education that balances personal and social interests to become informed, competent, and involved citizens in a safe anti-racist environment.
Vision: Revolutionize education by preparing young people to create a more just, sustainable, and equitable world. We are committed to making democratic education accessible to students who have been marginalized in traditional schools.
Discover The Pearl – A 501(c)(3) non-profit that fosters inclusive education and customized learning Plans
Even before the COVID-19 crisis, many teens were left behind in the traditional educational system due to factors like socioeconomic status, ethnicity, gender identity, and learning styles. This often leads to marginalization and a negative impact on their long-term quality of life. The Pearl, however, offers an innovative approach to education that fosters community and embraces inclusion.
An Approach to Education that Values Student Input
At The Pearl, students share control of their learning environment, including rules, curriculum, and learning methods. This approach gives them a stake in their classes, resulting in higher engagement in their classrooms and communities. Additionally, our focus on equitable opportunities for participation promotes a culture of validation, where every voice is heard and respected. This creates a dynamic learning environment that builds a sense of community and brings out students' cooperative nature.
Customized Learning Plans to Fit Your Family's Needs
Our school offers a 21st century approach to learning that emphasizes freedom and choice. As a home-school partnership, we work with families to create a customized educational plan that fits their needs. Students have the flexibility to explore single courses or participate in all the courses we offer.
Building Critical Thinking Skills and Autonomy
Our approach to learning results in students becoming excited about education and developing critical thinking skills. The freedom to make choices and take control of their education promotes a sense of autonomy, self-management, and independence. With small classes of only 10 students, our teachers are active partners with students, empowering them to follow their interests and discover their potential.
Experience the Difference at The Pearl School
The Pearl School offers an evidence-based and inclusive approach to education that fosters a love for learning and critical thinking. With a focus on student autonomy, small class sizes, and partnership with families, our students are equipped to succeed and thrive in a rapidly changing world.
We currently have students in Canada, the United States, México, El Salvador, and Jamaica.
The ultimate "test of a democratic education is the difference it makes in the lives of students and the community to which they belong"
(Pearl & Knight, 1999).
Ever since I came to The Pearl, I've learned so much more than I've ever learned in traditional school. The Pearl gives me the space to learn in my own way and explore my interests.
I have enjoyed learning at The Pearl because I feel it is a safe space for me.
Throughout my entire education, the traditional systems never intended for me to learn, until I came to The Pearl where now I'm surrounded by teachers and peers who want me to learn.
Our son has gone from withdrawn and disengaged in school to actively striking up conversations with us about topics discussed in class and sharing ideas about future projects and research interests. To be honest, it's unlikely I would have believed a shift of this magnitude could happen so quickly if I didn't experience it myself. It is remarkable, and a testament to the work of Robin, her team at The Pearl, and the open, supportive, and thoughtful learning environment created by teachers and students alike.
The Pearl saved our child's life
My son has had many different educational experiences, including homeschooling for the past 6 years, but it wasn't until we found The Pearl that I feel we finally found the right fit for him. He loves his classes, his classmates and his teachers. Overall it's been a really positive experience and I'm grateful that we found this community.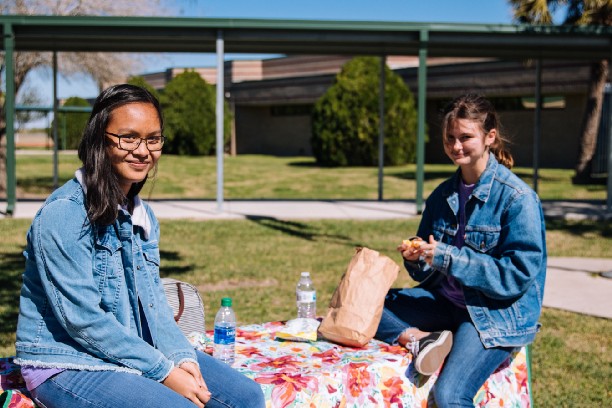 "We need to rebuild our schools from the ground up with the democratic classroom in mind. This would increase the positive outcomes of education for